FranLink System™
Powered by the Franchise Broker Association
Challenge Island is a one of a kind mobile enrichment business on the cutting edge of S.T.E.A.M (Science, Technology, Engineering, Art and Math) Education and 21st Century Learning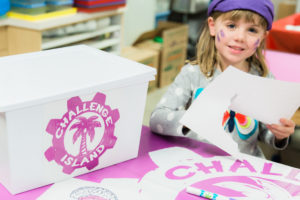 Our unique collaborative learning approach simultaneously addresses the needs of both the child of today and the adult of the future.
FAST FACTS
Nearly 70 Units in United States and Internationally
Low-cost mobile Business – We go where the kids are!
Very Large Territories set up owners for success
One-of-a-kind comprehensive curriculum for ages 4 to 14+ that specifically targets the hottest educational trends: STEAM (science, technology, engineering, arts, and math), 21st century skills and Cross curricular learning
Franchise Fee of $39,900 is ALL INCLUSIVE.  No additional kits or computers to purchase.
Inexpensive, Easily Accessible Supplies and Materials.
Fresh, Cutting-Edge, Educationally Grounded Cross Curricular Program with  NO National Competition
Established National Corporate Partnership with the Girl Scouts of America, Boys and Girls Clubs of America and Other Non-Profits; Qualified Vendor for Title 1 Grant Initiatives.
Monthly Discovery Days and Trainings in Atlanta. 99% of Closings Take Place at Discovery Day.  Trainings begin the next morning.
Excellent Validation.  Hands-On Corporate. Happy, Thriving Owners
Challenge Island's popular programming is known to fill in a flash. Our proprietary curriculum has earned countless accolades from schools, teachers, parents, and kids alike. We offer a proven franchise model, an exciting service to deliver, and a rewarding business to own. Find out how you can join our rapidly growing tribe of owners today!
Visit our Challenge Island Website at www.challenge-island.com  and our Challenge Island Franchise Website at franchise.challenge-island.com
Basic Franchise Info
Average Investment:
N/A
Minimum Investment: $47600 - $62450
To see this information click the button below!
Min. Liquidity: 50000
Years in Business: 2003
Open Units: 70
In-House Financing: Yes
Lead Assist: Yes
Coaching: Yes
Request Information