FranLink System™
Powered by the Franchise Broker Association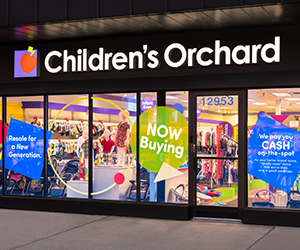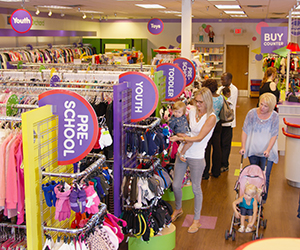 Children's Orchard has completely reinvented kid's products resale stores. Our stores pay our customers CASH on-the-spot, right over the counter, to purchase their better brand name "gently-used" clothing, accessories, toys and equipment.
When kids get too big for things that they own, Children's Orchard finds stuff a new home.  It's a whole new kind of resale store. You'll notice the difference when you walk in the door. Like an organized play room or a neatly made bed, our store's clean and tidy with bright signs overhead. You'll find plenty of bargains, all the stuff's just like new, and our resale prices are a selling breakthrough. Shopping is easy with a place where kids play.We specialize in kids' clothing down to size zero. If you're raising little ones, Children's Orchard makes you a hero.
Several Children's Orchard stores have won local awards year after year. For example, the brand was recognized by Parenting OC magazine as the best children's clothing store in 2015. And Children's Orchard Milford took home three awards in 2015 for being one of the Boston area's Wicked Local Favorites.
The up-and-coming children's resale brand also helped its parent company, NTY Franchise, earn a spot in the Minneapolis/St. Paul Business Journal's Fast 50 in 2015. The company also made the list in 2014. The program recognizes the fastest-growing privately held companies in the Twin Cities area according to criteria such as growth rate, revenue and more.
Basic Franchise Info
Average Investment:
N/A
Minimum Investment: $209000 - $321000
To see this information click the button below!
Min. Liquidity: 75000
Years in Business: 1987
Open Units: 27
In-House Financing: Yes
Lead Assist: Yes
Coaching: Yes
Request Information