FranLink System™
Powered by the Franchise Broker Association

Office Pride Commercial Cleaning Services
Office Pride is recognized as one of the most advanced and admired full service commercial cleaning / janitorial franchises in the building services industry. We are a nationwide, faith-based, franchise that exists to equip people to build a profitable business that honors God. Our franchisees provide top quality janitorial services and total floor care delivered in a professional and consistent way, through our commitment to honesty, integrity and hard work.
Office Pride Commercial Cleaning Services has created a complete, turnkey franchise business system with over 25 years of proven success in a virtually recession proof industry.
An Office Pride Commercial Cleaning Services franchise is quick to start because there is very little overhead and can easily be home based therefore no construction build out, no leasing.
Office Pride's growth and commitment to excellence has attracted attention over the years. We have been previously included in Entrepreneur magazine's "Franchise 500" rankings as a Top Low Cost, Top Home Based and Overall Best Franchise.
Office Pride has ranked in Franchise Business Review's Franchisee Satisfaction Survey – "The Top 50 – Best of the Best" list of franchises with 100 – 249 units for the last 9 years.
Office Pride has consistently ranked near the top in Franchise Business Review's "Top 100" Veterans & Franchising review. Military Times also ranks Office Pride #17 in its Top 42 "Best for Vets" list.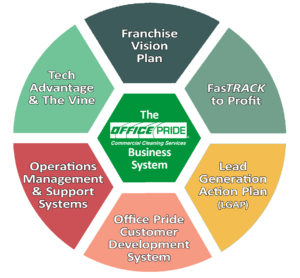 We believe for your business to be sustainable, you must be trained in every area of success, including sales, operations, hiring, strategic planning, financial management and more. Office Pride coaches you how to sell commercial cleaning and floor care services and how to grow your own business and therefore a business with equity.
The Office Pride business system starts with your Franchise Vision Plan (FVP). The purpose of the FVP is to provide a road map to achieving your personal and business goals. It is a detailed description of what your business and personal life will look like in the future – one, five, and ten years out. The FVP gives clarity to the "big picture" details to help ensure a synergy exists between your short-term and long-term goals.
The FasTrack program maps out key financial milestones and the plan to get to profitability as fast as possible.  We define profitability as earnings above and beyond all business expenses including an owner's salary.
Your top priority on day 1 of business is to get a customer. That can't happen unless you're filling your pipeline with leads. Lead Generation Action Plan (L-GAP) defines the sales, marketing, and networking activities required to efficiently and effectively market Office Pride within your local territory.
The Office Pride Customer Development System helps you maximize each step of the sales process to ensure you are converting the highest possible number of leads to profitable, long-term customers. The sales culture at Office Pride is unique, one that our customers appreciate and that most commercial cleaning businesses don't practice.
It can be a daunting task to manage operations in a growing janitorial business. Our Operations Management System (OMS) overcomes many of the common challenges of day to day operations allowing you to focus on growing your business.  This is accomplished through in-depth initial training followed up with hands on training by Certified Trainers in your territory. Office Pride University, peer-groups, online forums, business coaching and the many other support tools that are part of our OMS makes operations management uncomplicated.
Office Pride continually provides the best technology and equipment available in the industry to ensure we are on the leading edge.  The Vine, our proprietary web-based intranet, is a central repository of information as well as a platform to connect with owners across the country.  The Sales Amplifier, part of the Vine, is a full CRM to help grow and manage customer sales.  Additionally, The Vine hosts Office Pride University online courses, a complete internet forum, and social media that only Office Pride owners can access.
Office Pride's Mission Statement:
Honor and glorify God by build­ing mutually beneficial relationships with custom­ers, employees, vendors and franchisees and fulfilling our promise of providing top quality janito­rial services through men and women committed to honesty, integrity and hard work.
Office Pride's Core Beliefs and Values:
Honor God
Always do what is right
Increase brand value
Demonstrate honesty, integrity and a hard work ethic
Total Customer Satisfaction
Go the extra mile
Persevere with a servant's attitude
Accountability to Commitments
Basic Franchise Info
Average Investment:
N/A
Minimum Investment: $59500 - $107200
To see this information click the button below!
Min. Liquidity: 50000
Years in Business: 1992
Open Units: 131
In-House Financing: Yes
Lead Assist: Yes
Coaching: Yes
Request Information